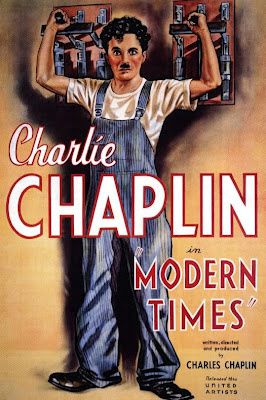 Description: The idea of the film was apparently given to Chaplin by a young reporter, who told him about the production line system in Detroit, which was turning its workers into nervous wrecks. In the film, Charlie becomes literally trapped in the machine and, in one of his finest patches of comic invention, is battered and buffeted by an automatic feeding machine introduced by his bosses to save time and money. Cured after his breakdown, he is arrested when he picks up a red flag that has fallen off the back of a lorry, and runs down the street to return it, exactly the same time as a left-wing demonstration comes round the corner. He meets 'The Gamine' (Paulette Goddard) in the back of the police van, who has also been arrested for stealing bread. From then on the theme is about two nondescripts trying to get along in modern times. "Smile, though your heart is breaking"
Rating 8.4/10
Runtime: 87 min
Language: English
Country: USA
Directed by: Charles Chaplin
Cast
Charles Chaplin ... A factory worker
Paulette Goddard ... A gamin
Henry Bergman ... Cafe proprietor
Tiny Sandford ... Big Bill
Chester Conklin ... Mechanic
Hank Mann ... Burglar
Stanley Blystone ... Gamin's father
Al Ernest Garcia ... President of the Electro Steel Corp.
Richard Alexander ... Cellmate (as Dick Alexander)
Cecil Reynolds ... Minister